Vanya and Sonia and Masha and Spike
by Christopher Durang – directed by Graham Lier
11/18/17 – 12/17/17
Free Preview 11/16/17  and Pay-What-You-Will 11/17/17
A modern comedy that turns Chekhov on his head. You won't want to miss this satirical and hysterical look at the lost opportunities and dashed dreams of three wacky siblings and their friends living in Bucks County, PA.   2013 Tony Award for Best Play
"If everyone took antidepressants, Chekhov would have had nothing to write about." – Sonia
"Broad comic acting is raised to the level of high art …deliriously funny… a heedless good time.
Chekhov meets Snow White in Award Winner
"Vanya and Sonia and Masha and Spike" Shine at Bas Bleu Theatre
Reviewed by Tom Jones
November 16, 2017
Vanya and Sonia have reached middle age, with very little going for them. They live in the family home in Bucks County, PA, and have spent most of their adult lives looking after their now-deceased parents. Vanya and Sonia have been unhappy for so long it seems that they have forgotten what happiness is. A day's highlight might be their bickering over whether the coffee is hot enough. Their boring lives are interrupted by the arrival of their world-famous actress sister, Masha, who breezes into town much to her peers' annoyance.
The stage is set for two and one-half hours of clever intrigue, family squabbles, and a rich coming-to-realization of what is important in life.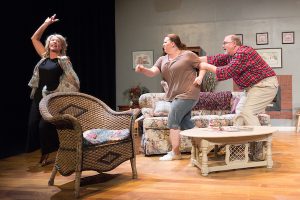 Jeffrey Bigger as Vanya, and Kelly Foerster as Sonia, are convincing as the brother and sister inhabiting the family home. Vanya is a gay man with no apparent close friends. Sonia was adopted into the family as a young girl, has grown to middle-age with no apparent friends, and no apparent interests. Neither of them is employed, and their successful sister, Masha, pays all the bills.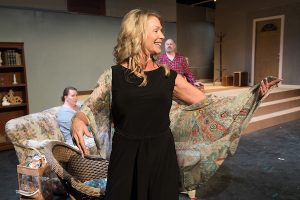 The arrival of Lee Osterhout-Kaplan as Masha lights up the stage. Masha, is an over-the-hill actress who is accustomed to having her own way with everything she does, and with everyone she touches. She arrives from her New York home with Spike, her latest gigolo, in tow. She has been through five husbands, and is currently hanging out with a young hunk half her age. Marcus Turner is super as Spike – a handsome dimwit whose main claim to fame has been to have auditioned for a bit part in a tv sitcom. Masha not only rules her young lover, but rules the stage as well. She is impressive.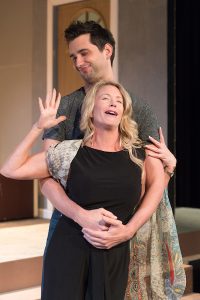 Her reason to travel to the family home is to find a realtor to sell the property. While she is in town she'll take the family to a neighborhood costume party where she plans to reign supreme as Snow White. The family balks at being assigned to supporting roles – dwarfs.
Vanya and Sonia and Masha were given names from Anton Chekov stories beloved by their parents. The Chekhov references are abundant, from names to family discord, even to the fading cherry orchard now reduced to just nine trees. Knowledge of Chekhov is not required, but is an added delight to playwright' Christopher Durang's clever story.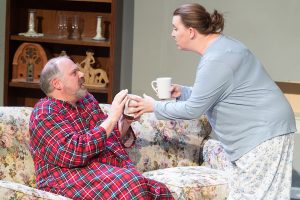 "Vanya and Sonia and Masha and Spike" opened on Broadway in 2013. Critics praised the show, and it proved to be an immediate commercial success — recouping its initial investment in less than four months. In 2013 it received the Tony Award for Best Play, the Drama Desk Award for Outstanding Play, and numerous other honors.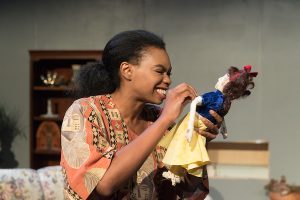 Direction for this production is by Graham Lier. This is his directorial debut, and he fills the roll admirably. I saw the first Bas Bleu public performance and was impressed with how the entire cast became better and better as the play progressed. I can only imagine how accomplished everyone will be in future performances.
Among the initial standouts: Lee Osterhout-Kaplan as Masha who is already brilliant every moment she is on stage. Jeffrey Bigger's Vanya provides a tender monologue review of what life was like in the 1950s. Kelly Foerster as Sonia is heart-wrenching when speaking to a gentleman caller by telephone the morning after the costume ball. She came to life that previous evening, and can't believe that someone was interested in knowing her better. Alexandra Bunger-Pool is a warm-hearted charmer as the neighbor girl who can find happiness everywhere she goes. Jasmine Winfrey is the voodoo-operating housekeeper who is able to put the household in order. Marcus Turner is the not-so bright Spike who has more brawn than brains, and is bewildered by the entire family.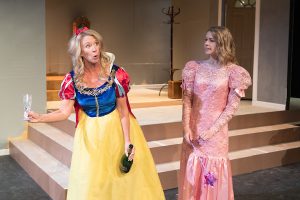 This production includes high hilarity and poignant pathos. Masha is terrified that her successful life as a sought-after actress may have peaked, and can't face the reality of being asked to portray the role of a grandmother. Her young lover is happiest when parading around in his undies not caring what anyone around him might think. Vanya and Sonia can't fathom what life might be like if the house is sold. This is a particularly-well-crafted play. The dreary lives are enhanced to the extent that "hope" is not just around the corner — it is on the doorstep. "There is always hope."
"Vanya and Sonia and Masha and Spike" (and Nina and Cassandra) are all in fine form, with this delightful fairly-tale of a family in turmoil.
"Vanya and Sonia and Masha and Spike"
Where: Bas Bleu Theatre Company
401 Pine Street, Fort Collins, CO 80524
. http://coloradotheaterreviews.com/chekhov-meets-snow-white-in-award-winner/
VANYA CLOSES

SUNDAY, DECEMBER 17

Final four performances!

Vanya and Sonia and Masha and Spike

by Christopher Durang

directed by Graham Lier

Question and Answer with director Graham Lier
What drew you to direct Vanya and Sonia and Masha and Spike?

 

I was first exposed to the script during my theatre studies at CSU a few years ago. What struck me about the play immediately was its nostalgia factor. Though the play is set in 2010, the characters are constantly referencing culture from the 1950s and 60s, which happen to be eras that I admire. So when I began to prepare for rehearsals, those eras – and the references the characters make to them – were the first things I researched. I'm also a fan of Christopher Durang – his plays are over-the-top and hilarious, but he's also not afraid to include darker, more serious themes in his work (a great example I think is my absolute favorite Durang play, Sister Mary Ignatius Explains It All For You).

---

Are there challenges to presenting this play? 

The play definitely has its challenges, despite its deceptively-easy sitcom-esque structure. As I mentioned in the previous question, Durang's plays combine humorous and serious themes, which this play definitely does, so figuring out how to balance that out is an interesting task. Another challenge stems from the fact that this play and its characters are inspired by the work of Russian playwright Anton Chekhov. We want to play out the Chekhov references enough to entertain fans of the playwright, but we also want audience members who are not familiar with Chekhov or his work to be able to take something away from the play rather than feel left out, so that's another delicate balance that needs special attention.

---

What have been the highlights of rehearsing this play?

Probably the most significant highlight for me is the opportunity towork with experienced actors who have been in the theatre business for a long time. As a young director who has previously only worked with college-aged actors, this was a part of directing this play that somewhat intimidated me at first. Now, I can honestly say that working with these actors has been extremely beneficial to my growth as a director. Directing and observing them in rehearsal is like taking a free masterclass in directing.

---

Has anything surprised you?

Not necessarily a surprise, but something I was very excited to see once rehearsals began was how well the cast fits together. Their dynamics are spot-on, and they all seemed to bond with each other almost immediately after our first read-through of the script, which is something all directors pray will happen. We've been having a lot of fun playing with the script during rehearsals and making new discoveries about it every night.

---

What do you hope people will take away from this play?

This play has many relevant themes for audience members to relate to, most notably sibling rivalry, dashed dreams, and longing for older times. And although this play was written mostly with baby boomers in mind, I think that it has the ability to connect with younger audience members as well. I myself am a millennial, so this is a goal that is very high on my priority list. I'm looking forward to hearing what audience members closer to my age think of the baby boomer characters and themes!

---

Is there anything else you'd like to share?

This will be a fun, heartwarming show that will be perfect for the holiday season! Bring your friends, your siblings, your parents, and prepare for a night of humor and poignancy!
Don't Miss Out!
Why wait until the day of the show to purchase your tickets? Did you know you can conveniently purchase your tickets online?